MAGI ASTROLOGY UNDERSTANDS THE REAL REASONS
HILLARY CLINTON LOST THE ELECTION
September 25, 2017
In our third book, Magi Astrology: The Key to Success in Love and Money, we revealed that the Saturn Chiron combination is representative of Heartbreak.
For example: When transiting Saturn makes any Clash Angle to anyone's natal Chiron, that person is likely to experience some form of heartbreak.
Another example: When the transiting Saturn/Chiron midpoint is making any Clash Angle to anyone's natal Sun or natal Chiron, that person is likely to experience some form of heartbreak.
Still another example: When Saturn and Chiron are aligned in a Clash in a progressed chart, the native is very likely to experience heartbreak.
Hillary Clinton is a perfect example of this type of Heartbreak Clash.
Hillary Clinton was having a horrible Saturn Chiron Heartbreak Clash when she lost the presidential election – the clash was in her progressed chart (secondary progressions).
Below is the Secondary Progressed Chart for Hillary Clinton, born on October 26, 1947 around 8 AM, and progressed forward to last year's election day, using the day for a year, secondary progressions formula: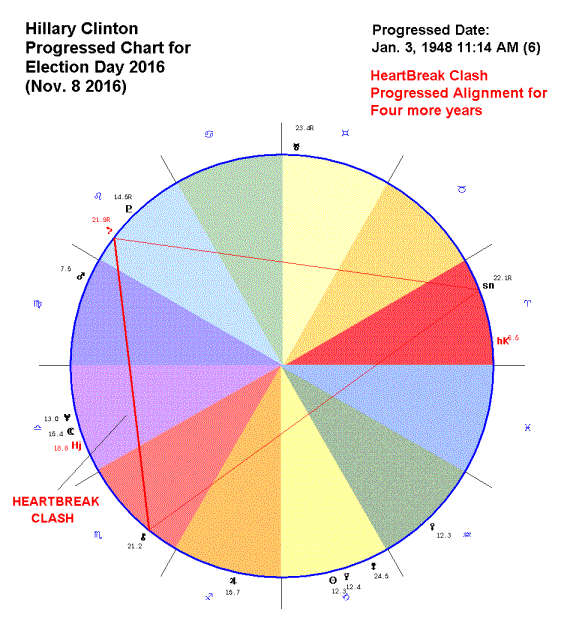 Click here to enlarge
Magi Astrology has always used the "progressed alignments" as a tool to predict the future or understand the past, and the most prominent progressed alignment in Hillary Clinton's progressed chart is her Saturn square Chiron, which is representative of HEARTBREAK.
And boy did she ever have a heartbreak. 
You may recall what we have informed you many times before on our websites about the Saturn/Chiron Heartbreak Clash – we explained that the Heartbreak Clash is insidious because it first makes it look like your dreams will be fulfilled but then it crushes you into the depression of heartbreak as it destroys your hopes and dreams.
[Editor's Note: the above chart does not include declinations because the declinations is not the focus of this article and we are experimenting with adding more color to our website and the colored wheel tends to make the declinations hard to see – but we will use our usual wheel plus declinations charts whenever appropriate or needed.]
The Magi Society's discovery of the Saturn Chiron Heartbreak Clash is one of the most important discoveries in all of astrology and it helps every astrology fan to accurately make predictions that are impossible to make without this knowledge.
The Magi Society's three books contain more truths about astrology than any other books, which is why used copies of our books sell for higher prices than any other used astrology books.
MAGI ASTROLOGY HAS ANSWERS
NO OTHER TYPE OF ASTROLOGY HAS
The above lesson helps you to understand matters you could not possibly understand without using the principles of Magi Astrology. And you can know all this without needing any exact time of birth.
Traditional Astrology could never help us understand any of this. Traditional Astrology does not fully understand the power of planetary aspects and focuses too much on houses. Even worse, Traditional Astrology is nearly a total prisoner of its requirement of an exact time of birth.
On the other hand, one of the great beauties of Magi Astrology is that it gives us so much knowledge without exact times of birth – Magi Astrology is a "timeless" gift to us and we should always use it in our lives.
MAGI ASTROLOGY REALLY WORKS!
AND HAS AN ESTABLISHED PROVEN SET OF RULES
THAT HELP YOU IMPROVE YOUR LIFE
If you have been a fan of Traditional Astrology, you must have been totally frustrated many times because Traditional Astrology lacks a set of rules for predicting the future.  At best, Traditional Astrology offers a very vague set of guidelines for predicting the future.  But these rules are always hedged – for example, Traditional Astrology claims that Saturn transits are often bad but at other times they can be good. 
Traditional Astrology also uses confusing symbolisms for the planets – the symbolisms used by Traditional Astrologers are often contradictory because they claim all planets have a "duality."
But Magi Astrology is precise and consistent.
The techniques and principles of Magi Astrology are revolutionizing astrology and giving all who use Magi Astrology an advantage over everyone else.
With the help of Magi Astrology, Hillary Clinton could have avoided her heartbreak by natalizing every important stage of her presidential campaign on days that were good for her.
HOW TO LEARN MAGI ASTROLOGY AND GAIN THE MAGI ADVANTAGE
Magi Astrology is easy to learn and is the only form of astrology that actually helps you to improve your life. With Magi Astrology, you can improve your love life and your career; and you can avoid heartbreaks in both love and business. This may sound like quite an exaggeration but please judge for yourself. We invite you to a free download of the first 14 chapters of our third book by clicking here. Reading these chapters is the best way to begin to learn Magi Astrology.
MAGI ASTROLOGY REALLY WORKS!
For over a decade now, we have been able to consistently use the simple rules of Magi Astrology to explain the love life of hundreds of famous people on our websites because Magi Astrology Really Works. This website has hundreds of articles all proving Magi Astrology Really Works.
NO OTHER ASTROLOGY WEBSITES GIVE ENOUGH EXAMPLES TO BACK UP THEIR THEORIES.
If you would like to gain the Magi Advantage and improve your life, please consider joining the Magi Society. We are an "open" society, meaning anyone is welcome, and you are not obligated to help the society in any way if you become a member. EVERY MEMBER RECEIVES FREE SOFTWARE. Membership is just $80 for the first year and $55 for each additional year. The Magi Society is the world's largest association of astrologers with over 5500 members in 34 countries worldwide.
The Magi Society provides all of our members free software that is so versatile you can use it to cast charts for both Traditional Astrology and Magi Astrology. But only Magi Society software can help you to fully utilize Magi Astrology principles because only Magi Society software helps you see Planetary Geometry and the true alignments of the planets.
Magi Society members may also purchase optional interpretations upgrades that provide not only superbly accurate interpretations but also great advice that give you the Magi Advantage.
There are other valuable benefits of membership in the Magi Society. We offer a free Certification Program for our members who would like to build a career as a professional astrologer, either full time or part time. We also hold Magi Astrology Workshops by conference calls so that our members may more easily learn Magi Astrology. If you would like information on our software and/or other membership benefits, please click here and send us an email.