A SUPER ALIGNMENT OF PLANETS
PREDICTED THE US STOCK MARKETS
August 8, 2016
The US stock markets made new all-time highs last Friday.  Below is a stock price chart to illustrate how well stocks have been performing the past year: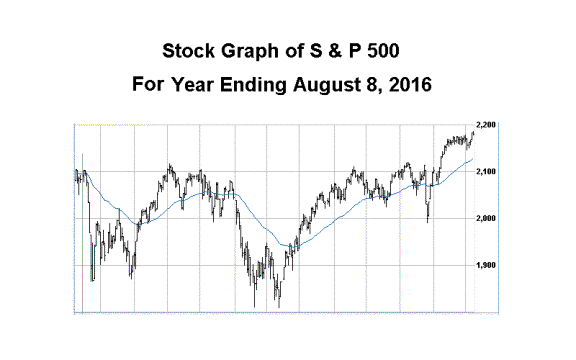 All Financial Astrologers believe that the alignments of the planets have influences on stock prices. Therefore, we should be able to find planetary alignments that would explain why the US stock markets have gone up so much.
But if we use only Traditional Astrology, we would be at a loss because nothing in Traditional Astrology would help us to explain why stocks are now at all-time highs.
Fortunately, Magi Financial Astrology Really Works, and if we utilize the principles of Magi Astrology, we will see the planetary alignments that have helped to propel stock prices to their current highs. 
When it comes to predicting the stock markets, Magi Astrology utilizes six dwarf planets that we told you about in 2008 and 2011.  Beginning in late 2008, we published five articles on this website revealing our discovery that six dwarf planets are instrumental in creating alignments that have significant influences on stock prices.  You may read all five articles by clicking on the five links below:
Astrology of TransNeptunian Dwarf Planets
Why Do Stock Markets Change Directions
New Discoveries in Astrology Dwarf Planets
Why Did the Stock Market Go Up 218 Points Today
Now that you have read the above articles, you will be able to understand the two charts below, which are Magi Astrology charts showing the super alignments of planets that have helped to push US stock prices to new highs.  This first chart below shows the planets in the geocentric sky: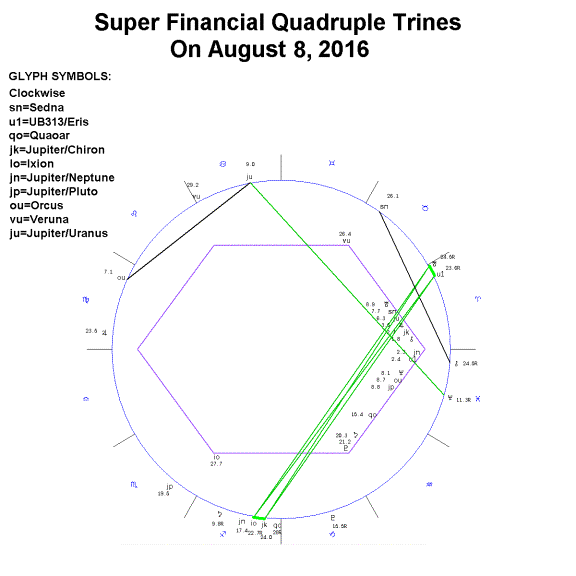 Click here to see an enlarged graphic.
And the chart below is a Magi Astrology Chart of the Heliocentric sky: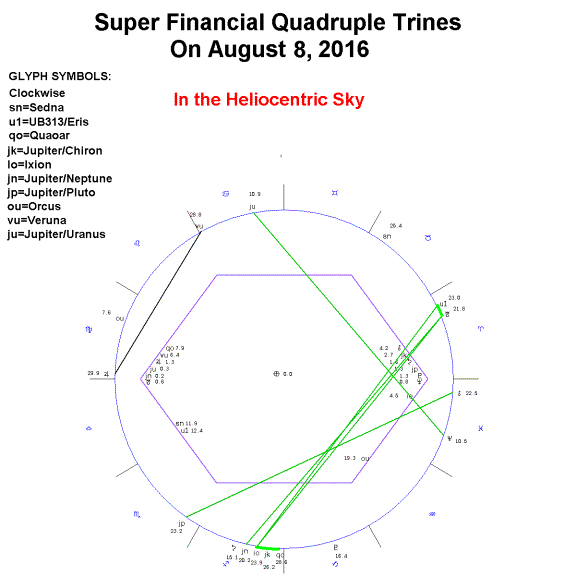 Click here to see an enlarged graphic.
The above two Magi Astrology charts reveal that in both the geocentric and Heliocentric skies, there have been a Quadruple Trine (four trines made by two pairs of planets where each pair of planets form a conjunctions that are in trine to each other).
In the geocentric sky:
Ixion is trine Uranus and UB313/Eris and also,
Jupiter/Chiron is trine Uranus and UB313/Eris.
In the Heliocentric sky:
Ixion is trine Uranus and UB313/Eris and also,
Jupiter/Neptune is trine Uranus and UB313/Eris.
We have learned in Magi Astrology that both Neptune and Chiron are Financial Planets and therefore, the Jupiter/Neptune and Jupiter/Chiron midpoints are also Financial "Planets" and very powerful stock market forecasting tools.
The six dwarf planets are helpful forecasting tools in all sectors of your life but absolutely essential for financial matters.  Since 2005, the Magi Society has offered a software upgrade that includes these six dwarf planets.  We call the upgrade the 'Extra AstroBodies Upgrade."
Magi Astrology is the only system of astrology that really works and knows how to use the newly discovered planets that possess significant astrological influences.  Magi Astrology provides us with the true and most useful symbolisms for all the planets and asteroids.
The techniques and principles of Magi Astrology are revolutionizing astrology all over the world and giving all who use Magi Astrology an advantage over everyone else.
HOW YOU CAN LEARN MAGI ASTROLOGY AND
GAIN THE MAGI ADVANTAGE
Magi Astrology is easy to learn and is the only form of astrology that actually helps you to improve your life. With Magi Astrology, you can improve your love life and your career; and you can avoid heartbreaks in both love and business, and you  can forecast the future better than anyone who does not use Magi Astrology. This may sound like quite an exaggeration but please judge for yourself. We invite you to a free download of the first 14 chapters of our third book by clicking here. Reading these chapters is the best way to begin to learn Magi Astrology.