FINANCIAL ASTROLOGY
LESSON THREE: PART TWO
MAGI ASTROLOGY CAN HELP YOU
FIND THE NEXT CINDERELLA STOCK
THE INVESTMENT STRATEGY OF MOST FINANCIAL ASTROLOGERS IS DEFECTIVE
In our opinion, most people interested in Financial Astrology make the same big mistake. They think that they can make massive amounts of money by TRADING in and out of stocks or commodities.  They are most interested in short or medium term movements and give little or no weight to long-term investment strategies.
There are many reasons why we believe that TRADING for the short term is a big mistake.  One convincing reason is that none (not even one) of Forbes Magazine's richest 400 people in the US made their fortunes by investing their own money to trade in and out of stocks or commodities.  This is the case in the Forbes survey published last October, and this is also true for every survey that Forbes has ever done. The shocker is that it does not matter which year we are talking about - none of Forbes' 400 richest Americans, in any year, ever made their money by investing their own money and using it to trade in and out of stocks or commodities.
That fact should really tell you something.
Here is another fact that we can learn a lot from.
During the last decade, over 70 percent of the richest 100 on Forbes' annual list made their money directly (or by inheriting from persons who made their money directly) from owning ONE stock for the long term.  It is always the stock of a company the person founded and it is the rise in the stock price that made the person fabulously wealthy. 
For example, Sam Walton's heirs are four of the ten richest people in America and Sam Walton made his money because he was the biggest shareholder of Wal-Mart, the company he founded. 
Three of America's richest men made their money because they are the largest shareholders of Microsoft. Bill Gates, Paul Allen and Microsoft CEO Steve Ballmer.
In Omaha, Nebraska, the hometown of Warren Buffett, last week, hundreds of Berkshire Hathaway millionaire stockholders gathered at their annual meeting to hear Buffett speak. They are millionaires because they bought Berkshire Hathaway a long time ago and held onto the stock.
We are not saying you have to be the founder of a successful public company to make a fortune.  What we are suggesting is that it would be really fruitful to find and invest in the next Cinderella stock.
Wouldn't it be nice to find the next Wal-Mart, Microsoft or Berkshire Hathaway and make a thousand times your investment?
MAGI ASTROLOGY CAN HELP YOU FIND THE NEXT CINDERELLA STOCK
Here is one of the ways Magi Astrology can help:
The Planetary Geometry of the day a company launches its "make or break" product is an excellent indicator of whether or not the product will make or break the company. Microsoft launched two products that have made Microsoft what it is, and broke the competition.  In each case, the Planetary Geometry of the day the product was launched told us the product was going to be super successful.
The two products we are referring to are DOS and Windows.  DOS was so successful that it helped Microsoft to demolish its competition during the first half of the 1980s.  Windows was introduced in 1985 and we all know how dominant that product has been ever since.  Below are the Magi Astrology charts of the two launch dates for these dominant products. This first chart below is the chart for August 12, 1981, the day Microsoft launched DOS.  DOS was so successful that you have to say it was a Cinderella story.  The astrological indicators of a Cinderella are Cinderella Aspects.  DOS was launched on a day when the sky formed three Cinderella Aspects.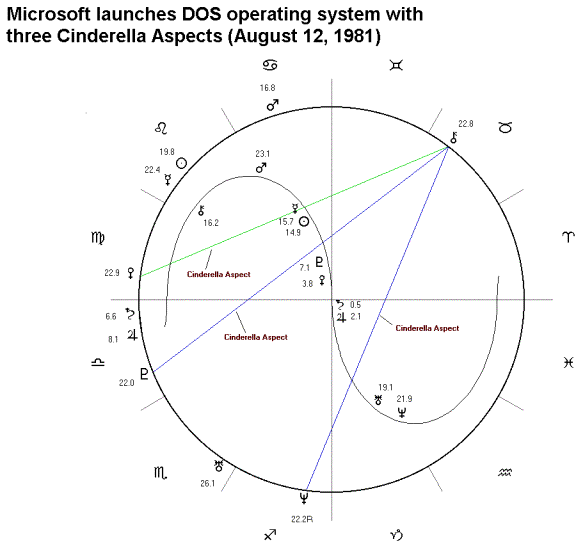 Below is the Magi Astrology chart for November 20, 1985, the day Microsoft introduced Windows (v. 1.0). Here again, it was a Cinderella product and there were three Cinderella Aspects on that day.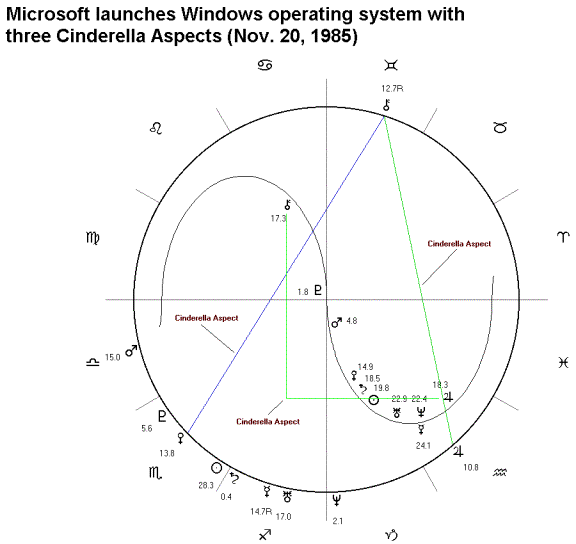 By analyzing these launch dates with the principles of Magi Astrology, you would have known Microsoft was going to be the dominant force in its business.
Less than four months after Microsoft launched Windows, it went public.  If you bought $10,000 worth of Microsoft stock at the opening on the day it went public (Mar. 13, 1986), and held onto it until the end of 1999, you would have made $9 million.  If you held onto the stock into the year 2000, you would have made even more. That is what we call a Cinderella stock.
Unfortunately, Magi Astrology was not available to you in 1986.  But it is now.  The Magi Society is determined to find the next Cinderella stocks - one tool we will use to do so is to launch stockmarketcompass.com, a website where the Society and our members will keep track of, and analyze, crucial launch dates for make or break products of companies.  If you might be interested in joining the Magi Society and becoming part of the stockmarketcompass adventure, please click here and send us an email.
© 1999-2005 by Magi Astrologers Worldwide Corporation. All Rights Reserved.