MAGI ASTROLOGY LESSON FIVE:
THE CRUSHING FALL OF AMAZON.COM'S STOCK PRICE WAS OBVIOUS
FROM THE PROGRESSIONS OF ITS CEO, JEFF BEZOS
Many members are asking us about the stock markets and begging us to give them guidance on how to use Magi Astrology on the financial markets. Here is an example of how to apply the principles of Magi Astrology to help you better understand what is happening to the financial markets.
In December of 1999, Amazon.com's stock price was making new highs and many on Wall Street thought that Amazon.com was going to become one of the true lasting Cinderellas of Wall Street. So many believed this that Time Magazine made Jeffrey Bezos, Amazon.com's founder and CEO, its Man of the Year.
At the Magi Society, the inside joke has always been that Amazon.com would eventually be Amazon.gone. One reason we always thought so was that it was incorporated on May 28, 1996, a day with the Heartbreak Clash Aspect. But another clue we always had about Amazon.com was much harder to know about. What we knew was that the founder and largest stockholder of Amazon.com was going to have a set of horrible progressions. But we also knew that he would first have some great progressions. One reason these progressions were hard for anyone else to know about is that ALL THESE PROGRESSIONS WERE IN BEZOS'S HELIOCENTRIC CHART. Heliocentric progressions are just as powerful as geocentric progressions when the principles of Magi Astrology Progressions are utilized. Below is the heliocentric progressed chart for Bezos when he became Time Magazine's Man of the Year.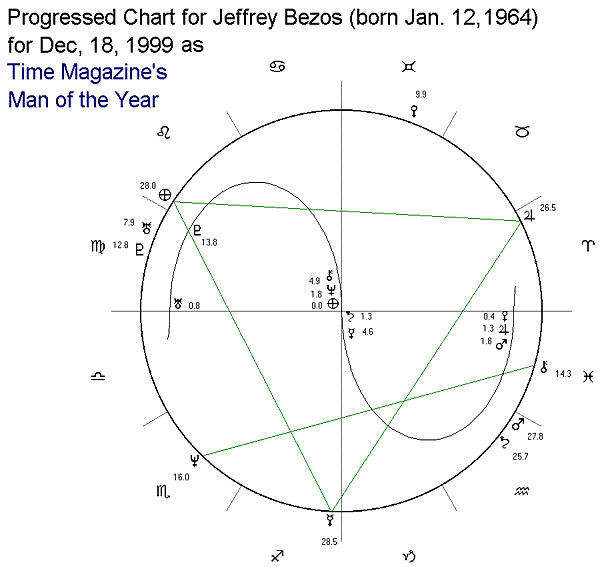 You can see that Bezos had a Grand Trine formed in his heliocentric progressed chart when he was named Man of the Year. But right now on Wall Street, he is getting a lot of votes as the Fallen Man of the Century because the price of Amazon.com's stock has dropped about 90% and this has made just about every one of its stockholders very upset and unhappy.
If you look only at the chart for the incorporation of Amazon.com, it would be difficult to understand this extraordinary drop. We believe that if we knew the exact time of incorporation, we would easily know the primary astrological reasons for the rapid fall (besides the fact stocks prices in special sectors usually move together and there has been a general decline in dot-com stocks). But it is nearly impossible to know the exact time a corporation is formed. For this reason, we have always explained that it is very useful to look at LINKED CHARTS.
A linked chart is the chart of someone or something that is closely and highly linked to another chart that it is almost like the two charts have essentially the same destinies. When a public company has a founder who is both the largest stockholder and CEO, it usually means the CEO's birth chart is a linked chart to the corporation's chart. Under such circumstances, the progressions of the CEO will give us a really good clue as to what is going to happen to the company.
This certainly has been the case with Amazon.com and its CEO, Jeffrey Bezos. Below are his Magi Astrology Progressions (secondary progressions) for right now at the writing of this link, with his company's stock 90% lower than it was when he bacame Man of the Year.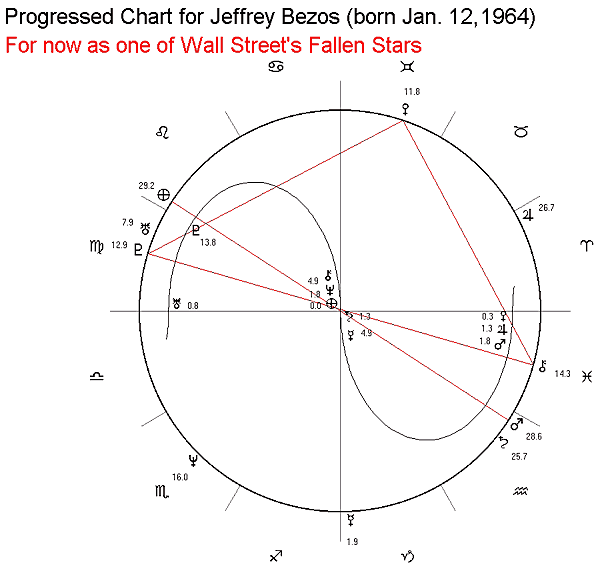 Bezos's progressions went from a Grand Trine to a T-square and this is not an ordinary T-square. This is a T-square formed by three Financial Planets! This T-square was a highly reliable sign that Bezos would lose a lot of money. The way he could do that was for Amazon.com's stock price to fall precipitously. Most of Bezos' wealth was tied up in Amazon.com stock. Bezos lost 90 percent of his wealth in the last 15 months because the company's stock dropped 90%.
If you might be interested in the Heliocentric Upgrades for your MagiSoft program, please click here and send us an email.
© 1999-2005 by The Magi Associates, Inc. All Rights Reserved.
Magi Astrology is a trademark and service mark of THE MAGI ASSOCIATES, INC.
Magi Society is a registered trademark of THE MAGI ASSOCIATES, INC.

IMPORTANT DISCLAIMER: By reading any of the material on this website you agree to our DISCLAIMER: The Magi Society and The Magi Astrologers Worldwide Corporation make no claims whatsoever concerning the validity of the information provided herein, and will not be held liable for any use thereof. No information or opinion expressed here is a solicitation to buy or sell securities, bonds, real estate, commodities, options, futures or any financial instruments whatsoever.