THE SUPER SUCCESS STORIES OF
MICROSOFT
AND
GENERAL ELECTRIC
WERE WRITTEN IN THE STARS
Just as the stars give us signs about the future in matters of love, they also tell us what is the most likely future of a company. We can use Magi Astrology to help us accurately forecast which companies are going to be the most successful ones, and which ones will find the going really tough. One way we can do this by analyzing the birth chart of a corporation.
We explained in our first book (Astrology Really Works! that corporations have birth charts and the birth chart of a corporation is the day it was incorporated. In the Lessons on Magi Astrology that are on the main page of our website, we pointed out the significant importance of MAGIcal Angles. When two Financial Planets form a MAGIcal Angle, then it is a very favorable time to form a company because the company is more likely to succeed.
General Electric is the second most valuable company in the world (Microsoft is number one). General Electric was incorporated when Chiron and Pluto formed a MAGIcal Angle. At the same time, Neptune and Pluto formed a MAGIcal Angle. Both of these alignments are extra extraordinarily rare.
Below is the birth chart of General Electric drawn the way we do it at the Magi Society. Such a chart includes the Declinations and we have highlighted the two pairs of Financial Planets that make MAGIcal Angles in the chart. When two financial planets make a MAGIcal Angle, we call it a Financial Super Aspect.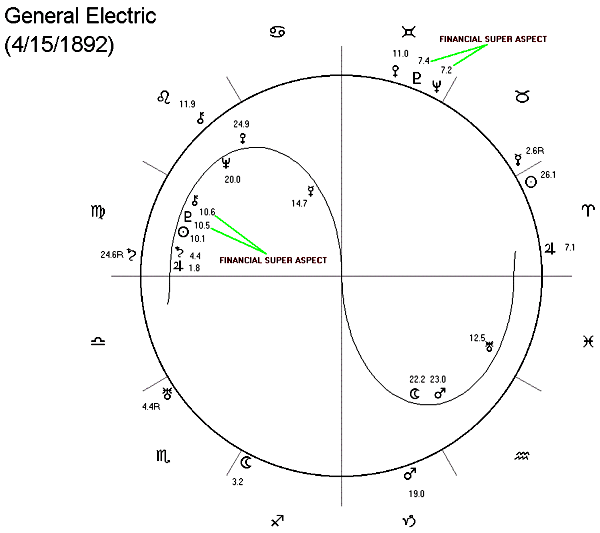 Of course, the two Financial Super Aspects are not the only reasons General Electric is so successful. But they are two of the most important ones. Other astrological reasons for its business prowess are in our books and also on the Members Only Section of our website.
Microsoft Corporation is the only company in the world that is worth more than GE. Unlike GE, Microsoft had reincorporated two separate times and each time, its birth chart was better than the one before. Below is the birth chart for the existing incarnation of Microsoft. It also has two Financial Super Aspects.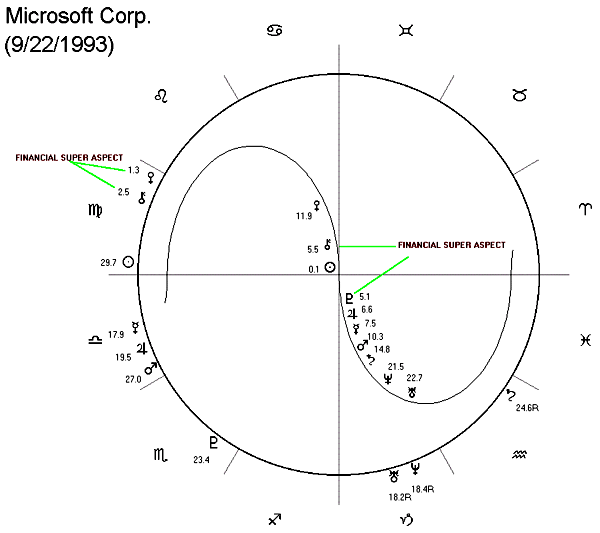 The first principle of Financial Magi Astrology is that the alignment of the planets during the day a corporation is founded is the astrological key to forecasting its future.
© 1999-2005 by The Magi Associates, Inc. All Rights Reserved.
Magi Astrology is a trademark and service mark of THE MAGI ASSOCIATES, INC.
Magi Society is a registered trademark of THE MAGI ASSOCIATES, INC.
IMPORTANT DISCLAIMER: By reading any of the material on this website you agree to our DISCLAIMER: The Magi Society and The Magi Astrologers Worldwide Corporation make no claims whatsoever concerning the validity of the information provided herein, and will not be held liable for any use thereof. No information or opinion expressed here is a solicitation to buy or sell securities, bonds, real estate, commodities, options, futures or any financial instruments whatsoever.