MICROSOFT IS LOSING ITS IMAGE
AS A CINDERELLA OF WALL STREET
There was a time that every money manager had to own Microsoft stock or else the manager was considered unprofessional and darn right stupid. Now the reverse is true. If a money manager still owns Microsoft, he is considered gosh darned stupid by many. Once Microsoft was the undisputed Cinderella of Wall Street. Now among the Big Five, Microsoft's stock price has been worst hit. Who is to blame? The stars maybe? Well---NO. The stars are never to blame but they are where are can find out what the trends are likely to be. Below is a screen display showing the Financial Super Progression that Microsoft enjoyed while it was the numero uno Cinderella of Wall Street.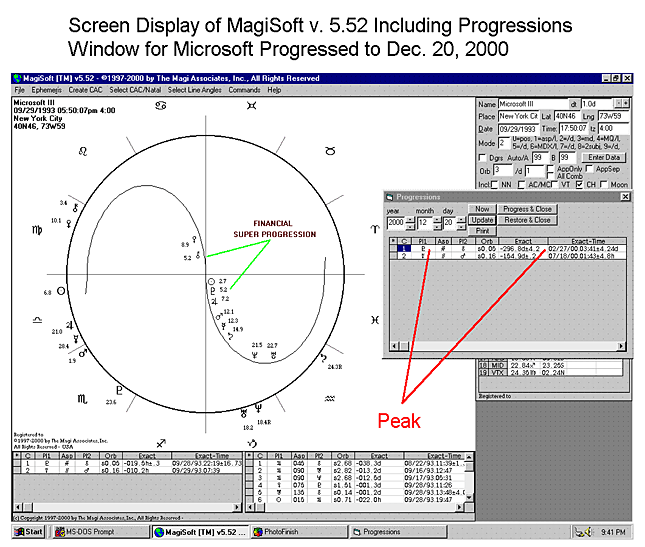 As you can see, for a long time, Microsoft had the benefit of the Chiron/Pluto Financial Super Progression. This is a Financial Super Progression because it is an enhancement aspect formed by Chiron and Pluto and both of these planets are Financial Planets. Depending on the exact time of incorporation for Microsoft (we always use noon on our website since we are not sure of the exact time) the Financial Super Progression peaked around February 26, 2000 which is remarkably close to time the stock actually peaked just a couple of months earlier.
There is a simple reason why Microsoft's stock price has fallen so much after the peak of the Financial Super Progression. It is not because of the anti-trust lawsuit. It is because Microsoft's good progression was followed by a bad one. Even worse, the bad progression is still working and will be applying for a long time to come,
In the sample screen below, we show you the bad progression.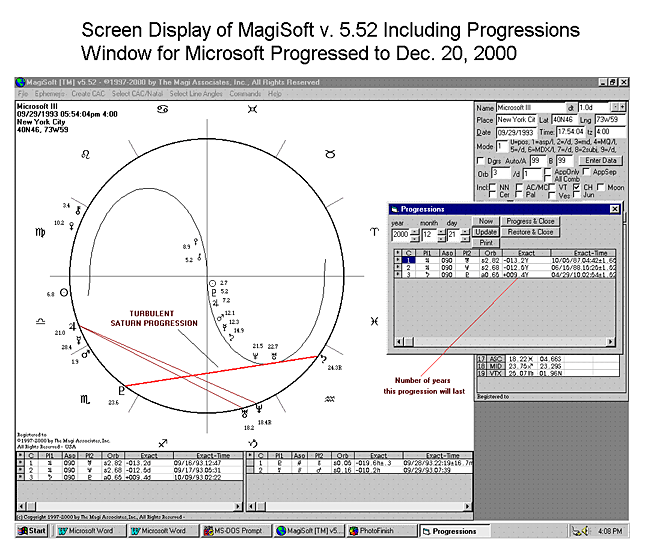 As you can see, Microsoft now has a Turbulent Saturn Progression formed by Saturn being square to Pluto. If you look at the Progressions Window where the red line is, the Progressions Upgrade of the MagiSoft program tells us that the Saturn/Pluto square will last for 9.4 years (9.4Y). That is a long time. Unless Microsoft reincorporates (which it has already done twice), this progression could be a sign that Microsoft's dominance will be badly shaken, even in operating systems.
back to main Magi Astrology page
© 1999-2005 by The Magi Associates, Inc. All Rights Reserved.
Magi Astrology is a trademark and service mark of THE MAGI ASSOCIATES, INC.
Magi Society is a registered trademark of THE MAGI ASSOCIATES, INC.

IMPORTANT DISCLAIMER: By reading any of the material on this website you agree to our DISCLAIMER: The Magi Society and The Magi Astrologers Worldwide Corporation make no claims whatsoever concerning the validity of the information provided herein, and will not be held liable for any use thereof. No information or opinion expressed here is a solicitation to buy or sell securities, bonds, real estate, commodities, options, futures or any financial instruments whatsoever.