| | |
| --- | --- |
| | YOU COULD HAVE USED MAGI ASTROLOGY TO KNOW THAT OIL PRICES WERE GOING WAY UP |
By paying close attention to financial news, and by utilizing the principles of Magi Astrology, you could have known that OPEC would finally be successful in raising the price of oil dramatically and getting away with it.
For about eight years before the spring of 1999, the price of oil kept going lower. The 15 members of OPEC made over half a dozen agreements to reduce their oil production in an effort to raise oil prices but none of the agreements worked. OPEC members kept cheating and did not abide by their agreements or quotas. Until March 23, 1999. On that day, all 15 members of OPEC signed an agreement to cut production by 2 million barrels daily. Since the signing of that agreement, one of the most important economic trends has been the rapid and incredible rise of the price of crude oil. It has gone from about $10 to over $30 and yet the western industrialized countries have not complained bitterly.
This is all explainable through Magi Astrology.
We explained in our books that an agreement has a birth chart and the birth date of an agreement is the day the agreement was signed. The success or failure of an agreement is dependent on the astrology of the day the agreement was signed. Below is the birth chart of the OPEC agreement that was signed on March 23, 1999. Note that Jupiter and Pluto made a MAGIcal Angle. By combining the meanings of these two planets, this alignment signifies that the agreement would be successful (Jupiter) as a monopoly (Pluto) and in big business (Pluto). The MAGIcal Angle made between the Sun and Chiron means the agreement would have a favorable public image (Chiron), which is why the rest of the world has not bitterly complained about the tripling of oil prices in such a short time.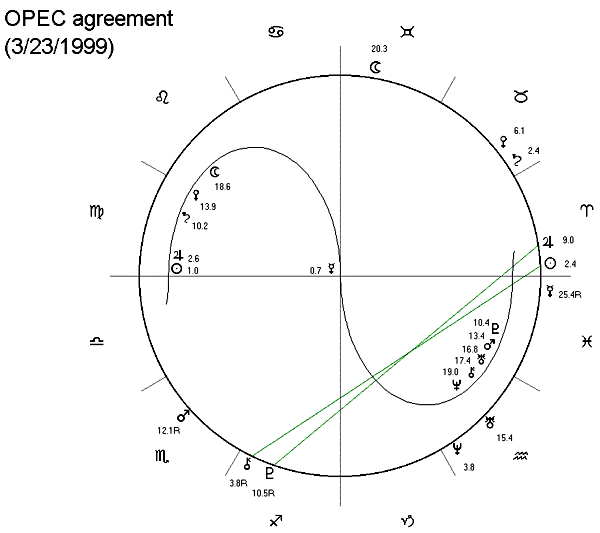 © 1999-2005 by The Magi Associates, Inc. All Rights Reserved.
Magi Astrology is a trademark and service mark of THE MAGI ASSOCIATES, INC.
Magi Society is a registered trademark of THE MAGI ASSOCIATES, INC.
IMPORTANT DISCLAIMER: By reading any of the material on this website you agree to our DISCLAIMER: The Magi Society and The Magi Astrologers Worldwide Corporation make no claims whatsoever concerning the validity of the information provided herein, and will not be held liable for any use thereof. No information or opinion expressed here is a solicitation to buy or sell securities, bonds, real estate, commodities, options, futures or any financial instruments whatsoever.